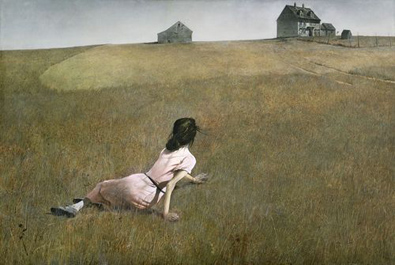 Opening Reception &
Wyeth Lecture
Tuesday, March 28th @ 6:30 PM
Quinebaug Valley Community College
742 Upper Maple St.
Danielson, CT 06239
We'll be gathering in the QVCC Reading Room to kick off the QC Reads One Book, One Region season with a reception and lecture about Andrew Wyeth. Our speaker will be Jessica Dudek-Viens, an Adjunct Professor of Art History at Quinebaug Valley Community College.
Jessica is an artist and educator who grew up in Northeastern Connecticut and lives in Killingly. She has a background in painting and drawing. Her recent work is predominately in the medium of social practice and community engagement. She invites social engagement with individuals, communities and organizations to create participatory art that can effect positive change in areas of community connection, healing and sustainability. Currently she is the Co-Chair of the Killingly Community Garden, and an MFA candidate at the University of Hartford.
Hardcover copies of the book will be available for purchase at $20 each.
---

Author Visit with Christina Baker Kline
Tuesday, June 13, 7 PM
Pomfret School
398 Pomfret St.
Pomfret, CT 06258
Tickets $15 at participating libraries
Join other Quiet Corner readers for an evening with another wonderful author!
Presentation and Q & A with light refreshments and cash bar.
The event is in the dining hall in the Main House building on the Pomfret School campus.
directions